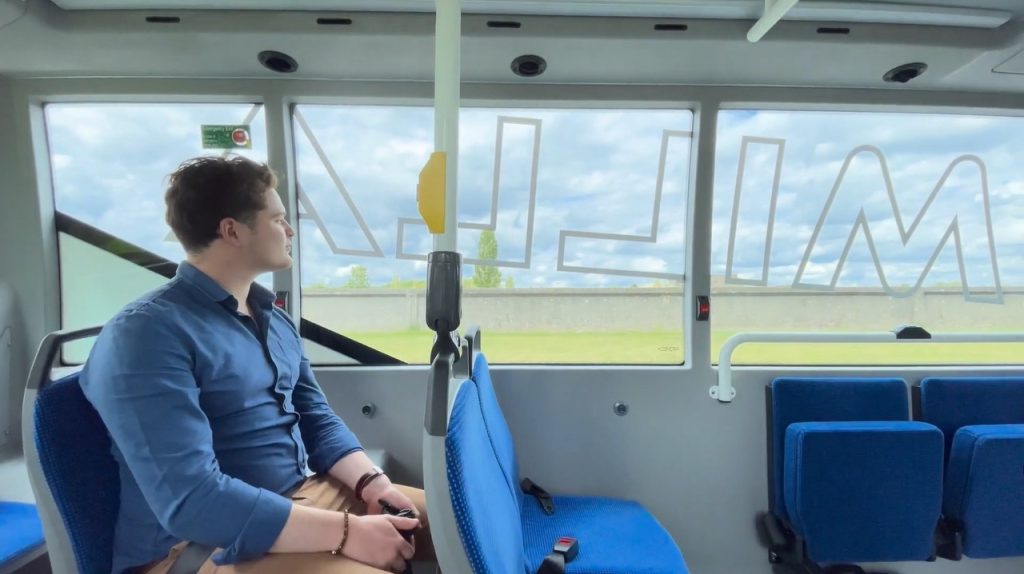 Autonomous and on-demand passenger transport
Discover our innovative autonomous transport solutions: people and goods transport. At MILLA, we're rethinking mobility by offering autonomous vehicles that adapt to your needs, whether for individual travel or freight logistics. Explore our advances in these two areas for more efficient, sustainable and flexible mobility.
Does the traditional multimodal offer need to be supplemented?
Welcome to the world of next-generation passenger transport with MILLA. Discover how our autonomous shuttles are revolutionising mobility by offering flexible, sustainable solutions tailored to your needs. Immerse yourself in a modern and secure travel experience, where efficiency, comfort and innovation combine to create a future of more convenient and enjoyable travel. Explore our passenger transport services and be inspired by the technology that is shaping the future of mobility.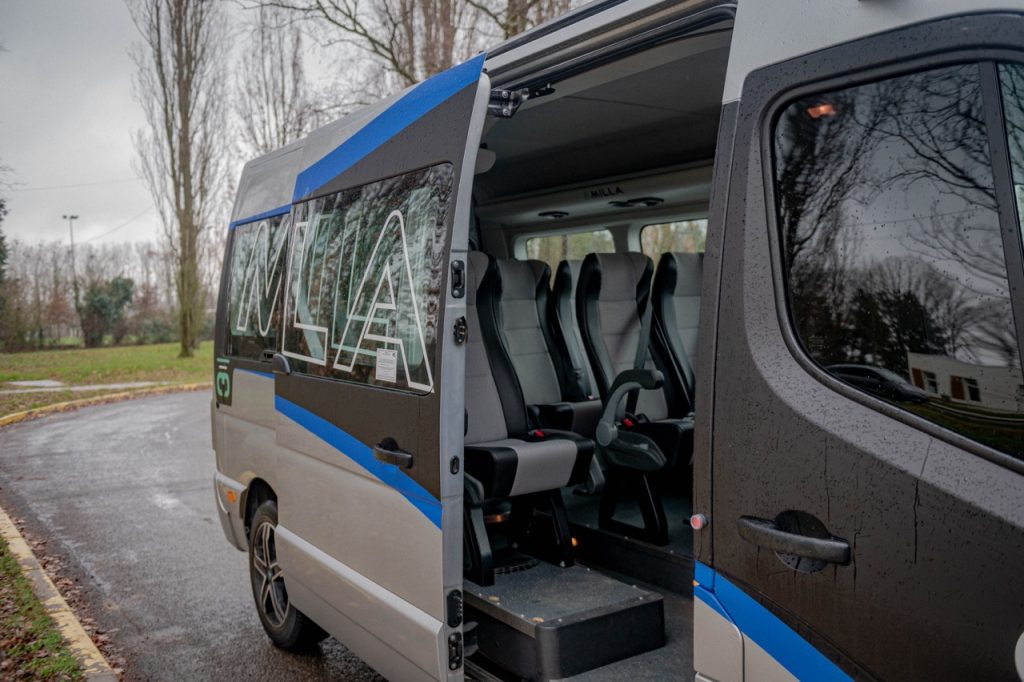 The problems of traditional public transport
The traditional public transport offer has shown real qualities and advantages over the years, but questions can be asked about its viability under certain conditions.
At Milla, we believe that the traditional offer is not suitable. Traditional public transport can often present major challenges such as congestion due to large numbers of passengers, fixed timetables that do not always match individual needs, saturation during peak hours, and a lack of flexibility to adapt to changing user requirements.
The advantages of autonomous passenger transport
Autonomous passenger transport offers a series of significant advantages. By optimising journeys and reducing traffic jams, it considerably improves the efficiency of urban travel. This shared approach reduces costs for users, while helping to cut CO2 emissions by limiting the number of individual vehicles. Besides, its flexibility and ability to serve less densely populated areas make it an inclusive and practical solution. Thanks to advanced autonomous driving technology and real-time supervision, autonomous passenger transport offers a smoother, more cost-effective travel experience.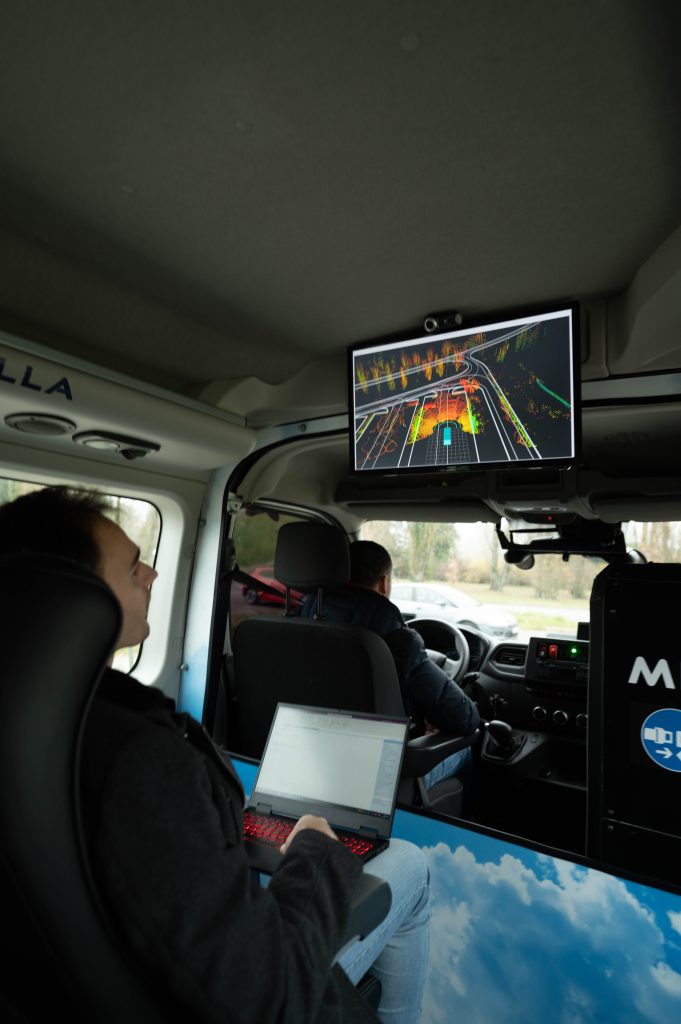 A service adapted to all urban areas
At MILLA, we believe that the mobility of the future should not be limited by the constraints of the urban environment. That's why we've designed our autonomous transport solutions to adapt perfectly to all spaces, whether dense, suburban or even rural. Rather than forcing cities to adapt to a new mode of transport, it is MILLA that adapts harmoniously to its environment, offering fluid, efficient mobility that is accessible to all.
Automated rural transport
MILLA responds to the needs of rural areas by offering adapted autonomous transport solutions. Our shuttles are designed for these areas, with a speed capacity of up to 60 km/h (and 90 km/h by 2025) and a secure interior space thanks to seat belts. What's more, our platform is designed to cope even with off-road conditions, offering reliable and practical mobility in the most demanding rural environments.
Automated transport in suburban areas
Peri-urban areas represent a key challenge for the decarbonisation of cities.
In these suburban areas, MILLA offers a range of options specially designed to adapt perfectly to this type of environment. With our optimised 50km/h speed configuration, ideal average size and dedicated areas for bikes, scooters and other means of transport, we offer a tailor-made solution that meets the specific needs of these ever-changing areas. The flexibility of our approach ensures that your community benefits from reliable and efficient mobility, contributing to a better quality of life.
Automated urban transport
In the heart of urban areas, our MILLA autonomous shuttle turns into an invaluable mobility companion. With features specially adapted to the hustle and bustle of urban life, our MILLA Mini Bus shines for its versatility. Featuring a dedicated area for people with reduced mobility, passenger information displays, a wide door for smooth boarding, and a lowered chassis for easy access, it can accommodate up to 20 passengers. This autonomous transport solution meets the challenges of urban travel by offering optimum comfort and a practical experience for all.
Reinventing the Travel Experience: Intelligent Accompaniment onboard Milla Shuttles
Welcome to the future of autonomous transport with MILLA.
Discover a new approach to travel guided by a supervisor and his intelligent platform. We present you with a travel experience where technology and assistance come together to offer you a safe, personalised and revolutionary journey.
A MILLA platform
At the heart of our automated transport service is the Milla platform, an innovative technology designed to support our remote supervisors. Using advanced cameras and sensors on board our shuttles, the platform provides a real-time panoramic view of the vehicle's exterior and interior environment. This enables supervisors to monitor the progress of the journey effectively and intervene if necessary.
It represents an intelligent convergence between people and technology, guaranteeing a safe and personalised journey every step of the way.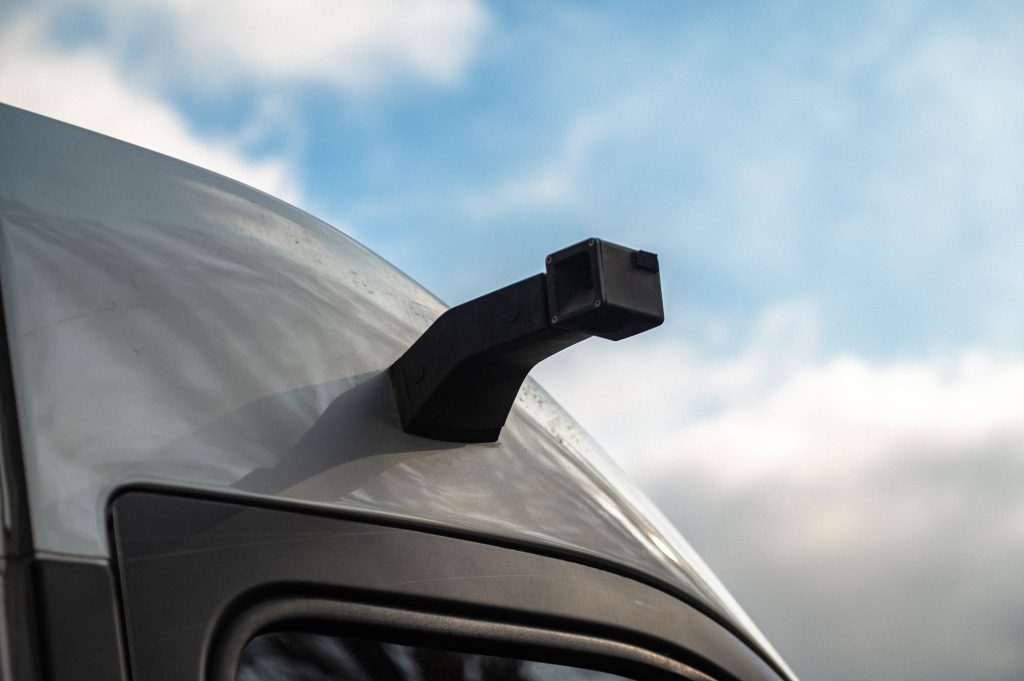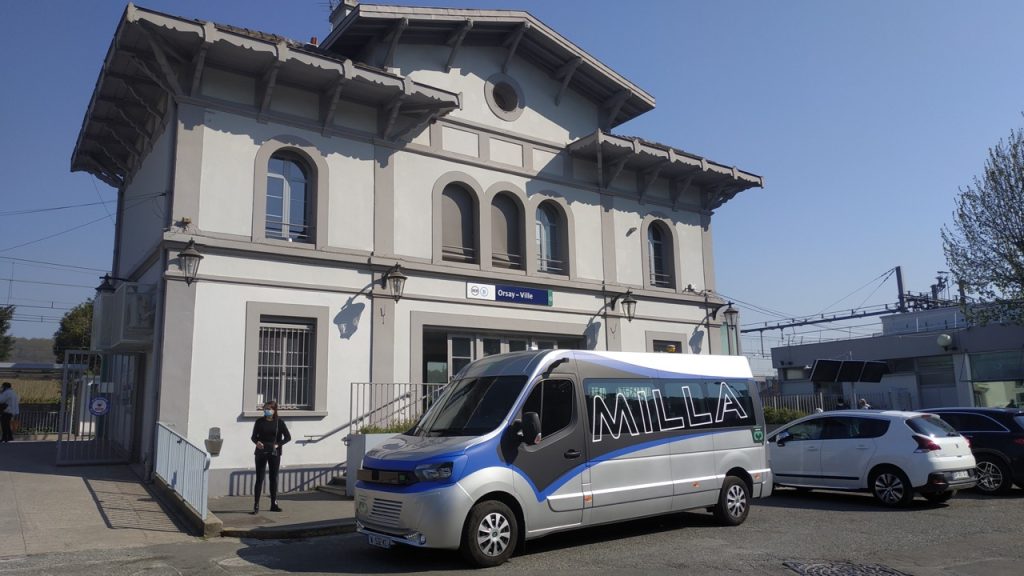 Hello Milla, ongoing
communication
The Milla platform also ensures fluid communication between passengers and supervisors, offering instant support to answer questions or resolve problems.
Hello Milla is a voice recognition and text-to-speech technology that can interact with passengers in real time. So in a Milla vehicle, you're never alone!
A dedicated application
For a complete and seamless travel experience, we have developed a dedicated application that allows you to follow your journey in real time. Thanks to this user-friendly application, you can view the shuttle's route, estimate the waiting time, and receive notifications to stay informed at every stage of your journey.
This intuitive solution offers a convenient way to stay connected with your autonomous journey, giving you total control and peace of mind.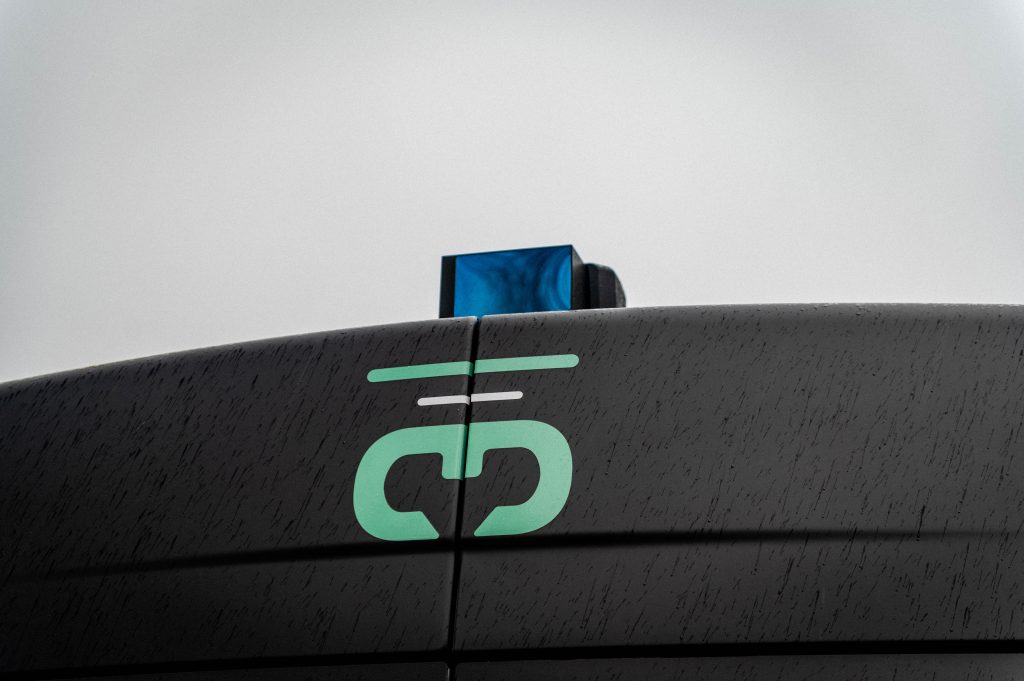 Easy customisation and integration
We understand that every customer has unique mobility needs. That's why we offer the flexibility to tailor our solutions to your requirements. If you already have a system in place, we work closely with you to integrate our autonomous vehicles into your existing infrastructure.
We share all the information and data needed to ensure that our shuttles work in perfect harmony with your environment, giving you a tailor-made solution that meets your specific needs.
Questions about autonomous transport of people?
There are two main approaches to autonomous mobility. The first is based on robot taxis, fully automated individual vehicles that act like driverless taxis. The second vision concerns autonomous shuttles, which give priority to shared transport, offering a collective and automated solution.
At Milla, we are focusing exclusively on this second vision. Autonomous shuttles enable a significant reduction in the number of vehicles on the road, while offering economic benefits.
Setting up an autonomous transport service involves a number of key stages. Firstly, a careful study of the operating area is required, to map potential routes and identify specific needs – it is very important when setting up the service to involve all the stakeholders. Next comes the preparation phase, including vehicle configuration, road tests and supervisor training.
Once these preparations have been completed, the deployment phase can begin. This involves putting the autonomous shuttles into service, while ensuring transparent communication with users and stakeholders. During this period, the supervision and passenger interaction systems are activated to ensure a smooth and safe experience.
At the same time, it is essential to work with local authorities and communities to obtain the necessary permits and integrate the service into the urban infrastructure. Once operational, ongoing monitoring is carried out to optimise journeys, resolve any problems and respond to the changing needs of the community.
At Milla, our experience and expertise enable us to support our customers every step of the way, offering tailor-made solutions adapted to the specific needs of each area. Our aim is to create autonomous transport services that are efficient, sustainable and integrated into their environment.
The challenges of mobility in the coming years are multiple and crucial. First, the continued growth of population and urbanization is leading to increased demand for travel, putting pressure on existing transport infrastructure. This traffic congestion has a negative impact on the economic efficiency and quality of life of the inhabitants.
In addition, environmental concerns have become essential. Transportation-related greenhouse gas emissions and air pollution contribute to climate change and public health problems. Reducing the carbon footprint of travel is therefore a priority.
Changing working patterns, such as increased teleworking, and new consumer habits are also influencing demand for mobility. We need to offer flexible solutions that are adapted to users' changing needs.
Finally, accessibility and inclusion are major challenges. It is vital to ensure that all citizens, including those with special needs, can access transport services easily and safely.
At Milla, we see these challenges as opportunities to innovate and offer autonomous, shared and sustainable mobility solutions that meet people's real needs and contribute to a more harmonious and environmentally-friendly future.