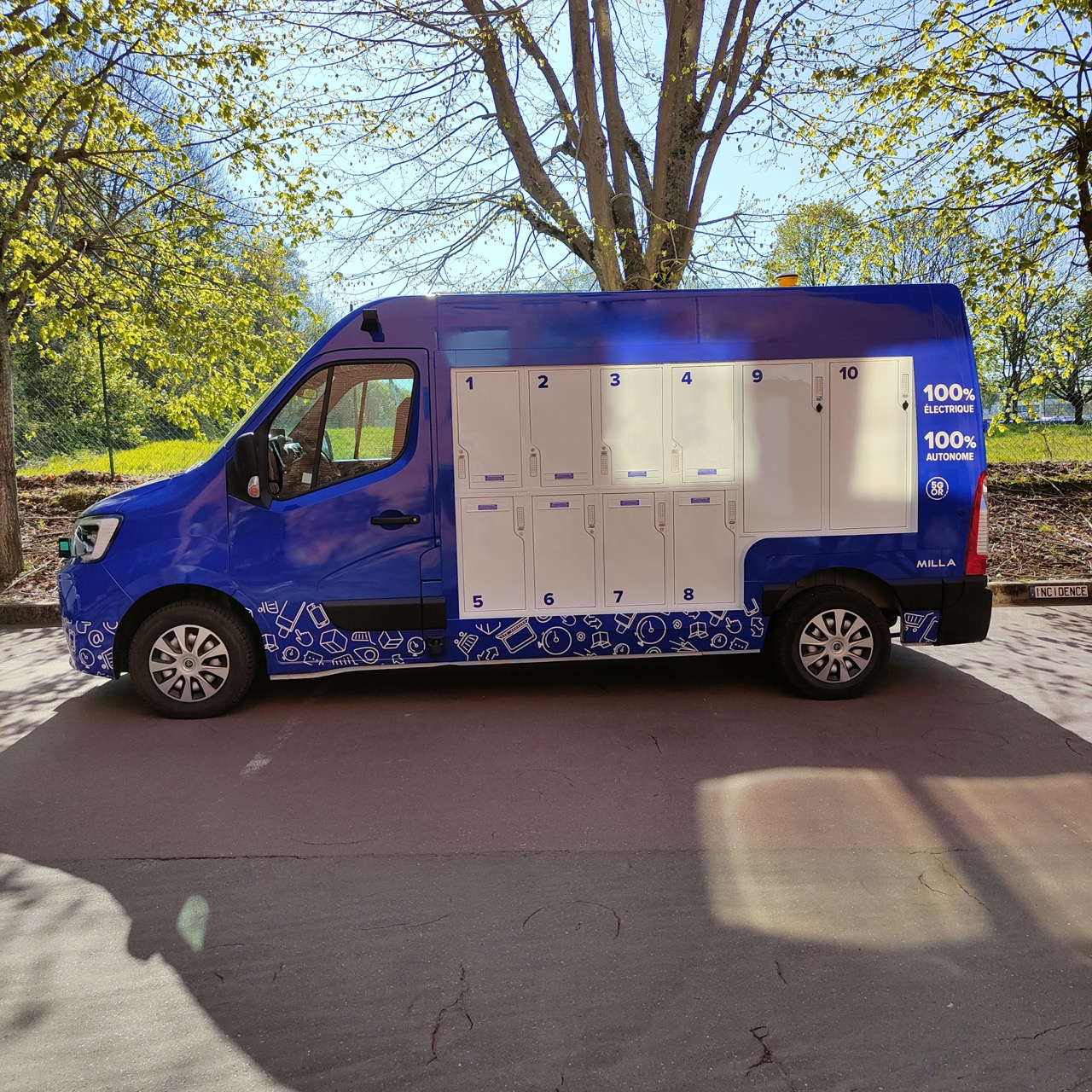 The Milla Delivery, a shuttle dedicated to transporting goods
Our aim is to provide you with a tailor-made goods transportation solution for both logistics and last-mile logistics. Its great strength is that it requires no infrastructure for urban/suburban deliveries or intercity travel, and the Milla Delivery shuttle is ready to take on any challenge.
It's our state-of-the-art solution for transporting goods. Specifically designed to meet customer requirements, this versatile vehicle offers exceptional flexibility in arranging its transport space to suit your needs. Whether you need an imposing space for bulky items or storage compartments for individual deliveries, Milla Delivery adapts perfectly to your business.
In addition to its customisable interior, the Milla Delivery is equipped with the latest technology to guarantee an efficient and secure delivery experience. From real-time parcel tracking to advanced security features, we've thought of every detail to optimise your logistics operations.
Trust Milla Delivery to meet your most complex delivery needs. With our commitment to innovation and quality, we are here to support you every step of the way in setting up an automated service and to offer you solutions that make all the difference.
Automation level: 4
Type of vehicle: N1
Engine: 100% electric
Area of use: Urban, suburban and rural areas
Maximum speed: 50 KMh
Logistic area: Modular according to customer's choice
Capacity: Up to 1 tonne payload
Autonomy: 300 Kmh
Dimensions: 4140 x 1640 x 2210
Our services provided by Milla Delivery
MILLA also offers autonomous goods transport services with the Milla delivery on open roads. Whether delivering groceries, small individual parcels or transporting goods between 2 logistics hubs, the modular loading area of this shuttle can be adapted to all types of transport.
Discover the future of last-mile and penultimate-mile logistics with this fully autonomous shuttle.
A revolutionary range of autonomous shuttles
The MILLA range is varied and ready to industrialize, which is a major advantage. We are developing a common base to ensure consistent quality and reduced costs. Our shuttles are designed to meet your specific requirements. They are reliable and cost-effective solutions.
Our primary objective is safety. Based on an already approved platform, our modifications have no impact on the integrity of the basic vehicle. We do not rely solely on artificial intelligence to operate our autonomous shuttles, we apply all the industrial standards of the automotive world.