A world first: the MILLA range of industrialisable autonomous shuttles
It is essential to stress that there is no other range of shuttles that can be industrialised, apart from the MILLA range. The industrialisation of an autonomous vehicle represents a complex challenge, which makes our approach all the more unique.
Today, we are proud to say that the MILLA range has this unique and unrivalled capability. By choosing MILLA, you are opting for a solution that embodies the perfect fusion of automotive and digital technology, paving the way for a new era of autonomous transport.
Unrivalled flexibility: Building on approved chassis
At MILLA, we are pushing back the boundaries of autonomous mobility by showcasing our exceptional ability to create tailor-made solutions. One of the pillars of this agility lies in our innovative approach to building autonomous shuttles.
We have made the strategic choice to build our shuttles on approved chassis from a range of leading car manufacturers. This decision is both bold and pragmatic, as it allows us to use proven and safe vehicle bases that have already been certified for use on public roads.
Our flexibility is not limited to a specific make or model. On the contrary, we are perfectly capable of designing our autonomous shuttles using a wide range of chassis from different manufacturers.
Agility is our watchword, and this is reflected in our ability to design and assemble bespoke autonomous shuttles using a variety of approved chassis. This unique approach enables us to offer autonomous mobility solutions that precisely meet your needs, whether for transporting people or goods, in diverse and demanding environments.
Choosing MILLA means pushing back the boundaries of technology, while guaranteeing the safety and reliability you expect.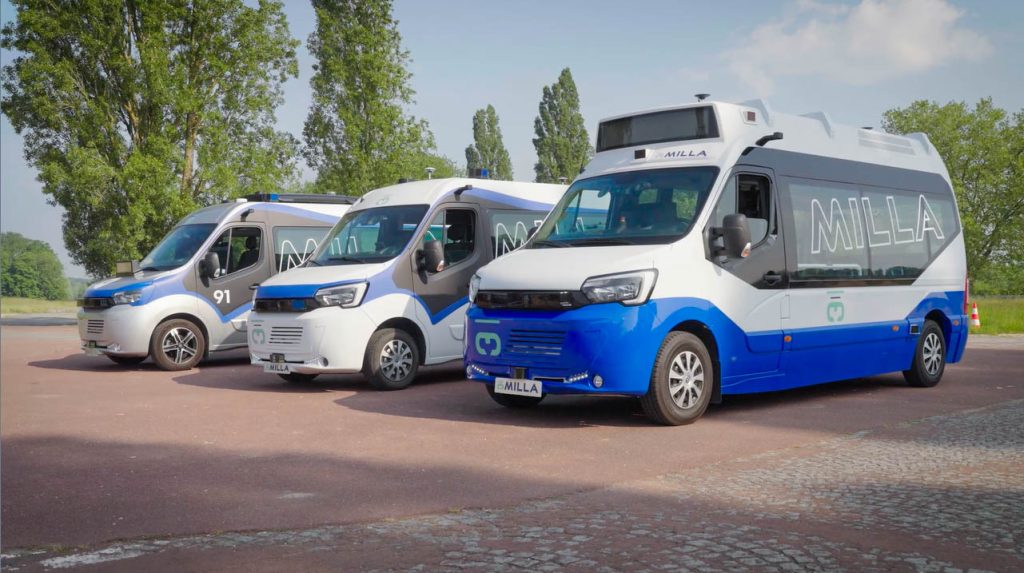 A Future of Innovative Mobility : MILLA, more than just a manufacturer of autonomous shuttles
At MILLA, our commitment to innovation is not limited to autonomous mobility. We are much more than just a manufacturer of autonomous shuttles. Our real expertise lies in the design and manufacture of special vehicles, tailor-made for the challenges of today and tomorrow.
Thanks to our complete mastery of the autonomous vehicle value chain, we are able to create solutions that go beyond traditional expectations. Our ability to push back the boundaries recently led us to work with prestigious partners such as SNCF and Michelin to design a special road-rail vehicle, opening up new perspectives in the field of mobility.
As experienced manufacturers, we recognise that the future of mobility requires a flexible and innovative approach. We design and manufacture special purpose vehicles that can be automated, adapted to the specific needs of various sectors and industries.
However, it is important to note that our positioning is not intended to compete with the major manufacturers, but rather to create an essential complementarity. Our expertise is focused on the design and manufacture of special vehicles that transcend established standards.
MILLA is much more than just a name. It's the symbol of a new era of mobility, where automotive expertise combines with technological innovation to create transport solutions tailored to the complex challenges of today and tomorrow. Join us in shaping the future of mobility together.
A Revolution in the Industrialisation of Autonomous Shuttles: The MILLA Range
Our primary objective is safety. Based on an already approved platform, our modifications have no impact on the integrity of the basic vehicle. We do not rely solely on artificial intelligence to operate our autonomous shuttles, we apply all the industrial standards of the automotive world.
Safeguarding the driving position, a real asset
Today, our vehicles are level 4 autonomous shuttles. They operate completely autonomously in a dedicated zone, but we have made the strategic choice to keep the driver's seat for several reasons.
Firstly, it gives us real flexibility when it comes to setting up the service. Autonomous navigation works thanks to a map of its space. The cockpit means that the same vehicle can be used in manual mode (by a driver) to carry out the entire vehicle setup phase!
Moreover, we've left the cockpit in place to ensure that if you need to use the vehicle outside the autonomous driving zone, you can do so, thanks to the cockpit, you're back in a totally traditional vehicle.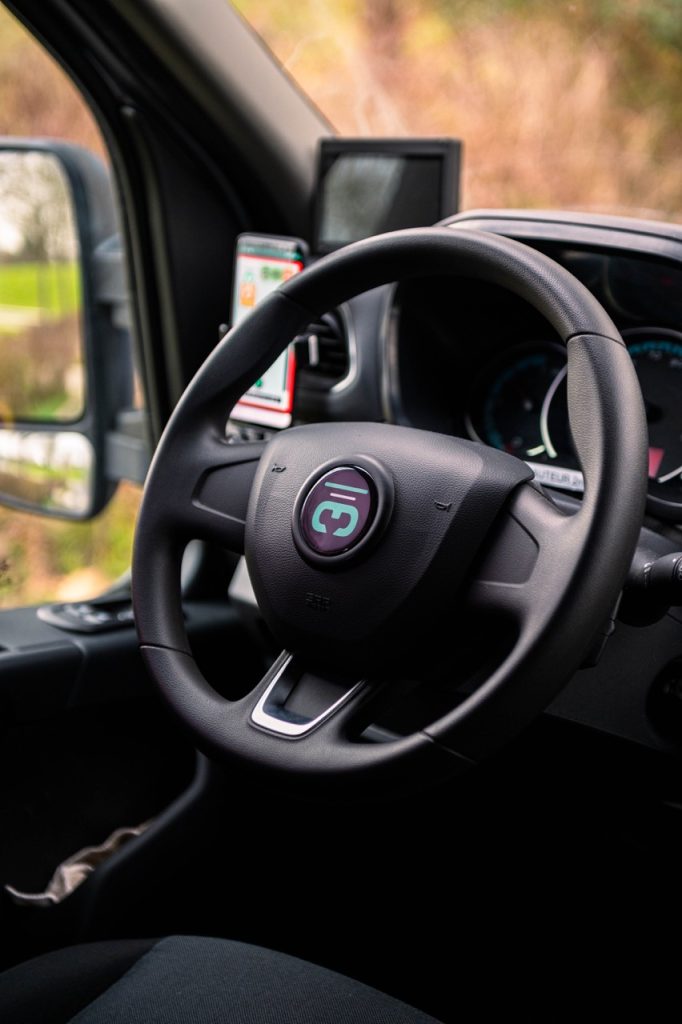 Optimisation through Uniformity: the advantages of our 80/20 approach
The industrialisation of the range has also led us to standardise our vehicles. At MILLA, we have opted for the 80/20 principle, which means that 80% of the parts of our shuttles are the same from one model to another. Conversely, 20% of the parts are different, enabling us to create autonomous shuttle models with different objectives. This method has 2 advantages:
1/Optimised costs
The use of identical parts for all the vehicles in our range means that production costs are reduced and we can offer you these vehicles at attractive prices. By opting for a shuttle from the MILLLA range, you are opting for an autonomous vehicle at a price similar to that of electric vehicles designed for traditional public transport.
2/Uniform safety and reliability
At MILLA, we believe that safety and reliability are essential pillars of any autonomous vehicle. That's why we've taken an innovative approach by standardising 80% of the solutions and parts in our range of autonomous shuttles.
This uniformity ensures fundamental consistency in terms of safety and reliability. By using identical sensors and components across all our vehicles, we ensure a consistent experience of software and safety algorithms. This means that the high standards of protection we have set are applied consistently across our entire range. This approach ensures a consistent response to unforeseen scenarios and emergency situations, providing unwavering safety for every passenger.
Discover this wide range of products designed to meet your every need!
Any questions about our range?
This is a fundamental response to lowering costs while considerably improving reliability. Our commitment to this process enables us to offer a high-performance, cost-effective solution to meet the needs of the autonomous mobility market.
The certification process not only certifies the vehicle itself, but also covers the entire manufacturing process, including our factory. Every component is traceable, every part is certified. This rigorous approach is essential to guarantee the legitimacy of these vehicles on the autonomous transport scene.
What makes us unique? Our position is the result of a rare combination: a base of approved vehicles, combined expertise in the automotive and digital worlds. Our ability to combine these two fields makes us the only player to really bring together the skills needed to industrialise this type of vehicle.
The homologated base provides a quality standard for a vehicle's essential functions. The engine, steering and braking systems are also very complex to set up. Using a tried-and-tested model from a manufacturer with a great deal of experience and reliability means greater reliability. What's more, our shuttles travel at high speeds and over wide areas, so this chassis is ideally suited to these constraints.
At MILLA, we've opted for a completely different approach to other manufacturers by starting with a chassis approved by a major manufacturer. We were the only ones to make this choice a few years ago, but today we're even being copied and other manufacturers of autonomous shuttles are going backwards to start from an approved chassis.
Once these preparations have been completed, the deployment phase can begin. This involves putting the autonomous shuttles into service, while ensuring transparent communication with users and stakeholders. During this period, the supervision and passenger interaction systems are activated to ensure a smooth and safe experience.
At the same time, it is essential to work with local authorities and communities to obtain the necessary permits and integrate the service into the urban infrastructure. Once operational, ongoing monitoring is carried out to optimise journeys, resolve any problems and respond to the changing needs of the community.
Chez Milla, notre expérience et notre expertise nous permettent d'accompagner nos clients à chaque étape de cette mise en place, en proposant des solutions sur mesure adaptées aux spécificités de chaque territoire. Notre objectif est de créer des services de transport autonomes efficaces, durables et intégrés dans leur environnement.