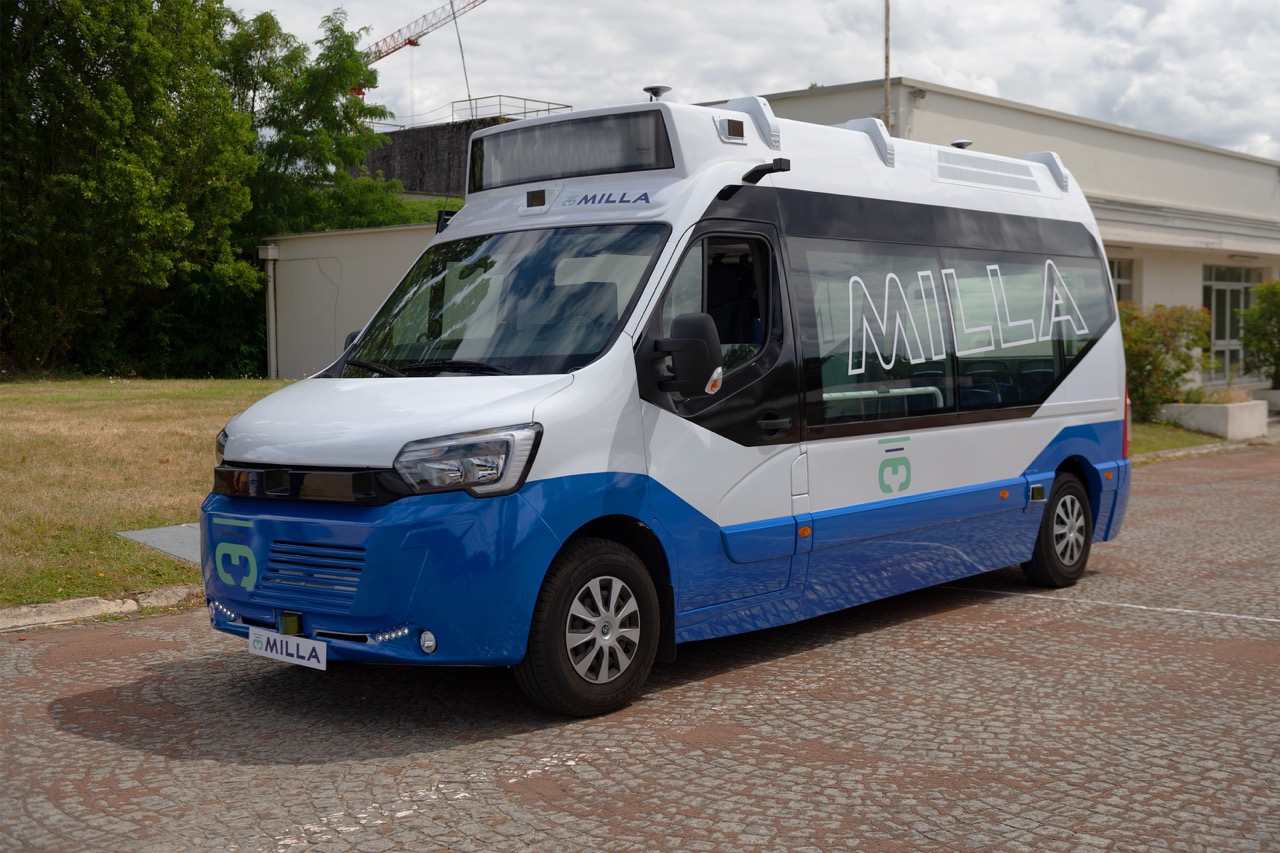 The Milla mini Bus, a completely innovative shuttle
The mobility offer needs to diversify, become denser and cover increasingly longer time slots.
Released in 2023, this new shuttle specializes in urban and suburban transport. Named Milla mini Bus, this vehicle is the result of our expertise, our mastery of design and our discussions with the various players in the mobility sector.
Thanks to the Milla mini Bus, we can once again demonstrate our expertise as a manufacturer, with an interior completely fitted out like a traditional bus. With seats, bars, stop buttons and standing areas, this shuttle has all the features of a bus, except that there's no driver. What's more, folding seats provide space for a record number of simultaneous passengers in an autonomous shuttle. The Milla Bus is also equipped with a PRM space, enabling disabled passengers to be included in the multimodal offer.
The Milla mini Bus is the future of autonomous transport in urban and suburban areas. With a fare similar to that of a conventional electric minibus, this approved vehicle is a forerunner in autonomous mobility. This bus is the culmination of years of innovation.
Let us convince you of this nugget of mobility!
Automation level: 4
Vehicle type: M2
Motorization: 100% electric or hydrogen
Area of use: Urban and suburban areas
Maximum speed: 60 KMh
Number of passengers: Up to 19 (without PRM space)
Accessibility: Accessible to PRM (with a capacity of 15 people)
Range: Up to 300 km
Dimensions: 6225 x 2470 x 2985 mm
Our Milla mini Bus services
Mobility in urban and suburban areas is paramount. With the MILLA mini Bus, MILLA has expanded its range of autonomous services in urban and suburban areas, establishing itself as a sustainable and efficient solution.
Discover this shuttle in operation, equipped with the largest capacity in our range, and sure to change the habits of its passengers. This automated vehicle is the future of autonomous mobility in densely populated areas, to ensure the continuity of an existing service in a less-served area, or for staggered working hours.
A revolutionary range of autonomous shuttles
The MILLA range is varied and ready to industrialize, which is a major advantage. We are developing a common base to ensure consistent quality and reduced costs. Our shuttles are designed to meet your specific requirements. They are reliable and cost-effective solutions.
Our primary objective is safety. Based on an already approved platform, our modifications have no impact on the integrity of the basic vehicle. We do not rely solely on artificial intelligence to operate our autonomous shuttles, we apply all the industrial standards of the automotive world.