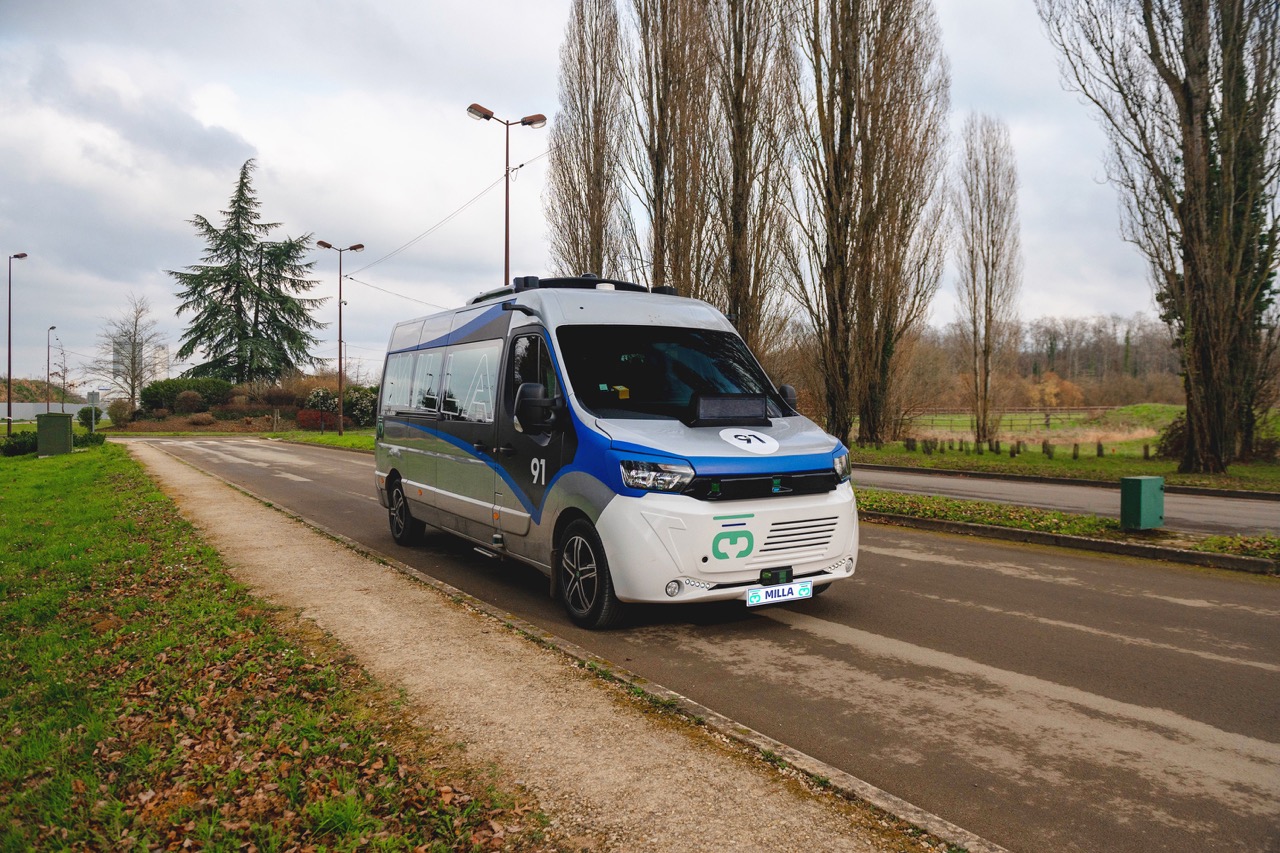 Milla Car, a shuttle that thinks big
The MILLA range of autonomous shuttles has been strengthened over the years with the Shuttle series in 2022. The Milla Car is just such a vehicle, as is the Milla Van. The mobility of people is an increasingly complex issue, and is not limited to urban and/or suburban areas. Transporting people is a key issue in rural areas, where existing services are becoming increasingly scarce. That's why we, at MILLA, have been working on this new shuttle to change the future of mobility.
This autonomous shuttle is being developed for use in rural areas where there are no other means of transport. The Milla Car is our vehicle with the best top speed and the largest seated transport capacity of up to 90kmh and 12 people. This vehicle is an ideal choice for setting up a mobility offer between rural villages or for circulating on stretches of high-speed roads.
At MILLA, we place the emphasis on reliability, comfort and safety on board this shuttle. This autonomous coach features top-of-the-range finishes. There's individual air conditioning, and armrests on the seats for added comfort. Approved 3-point seat belts ensure safe long-distance travel.
Trust Milla Car to provide large-scale autonomous on-demand transport. At MILLA, we're here to help you create more inclusive transport solutions.
Automation level: 4
Vehicle type: M2
Motorization: 100% electric or hydrogen
Area of use: Suburban, rural or even on freeways
Maximum speed: 90 KMh
Number of passengers: Up to 12 seats
Accessibility: Not accessible to PRM
Range: Up to 200 km
Dimensions: 6225 x 2470 x 2488 mm
Milla Car on open road
MILLA offers its automated Milla Car services in less densely populated areas as an alternative to the private car.
Discover the Milla Car in service, our first shuttle that even runs on freeways. It's also perfectly suited to more rural or suburban areas, such as the Paris Saclay university campus.
A revolutionary range of autonomous shuttles
The MILLA range is varied and ready to industrialize, which is a major advantage. We are developing a common base to ensure consistent quality and reduced costs. Our shuttles are designed to meet your specific requirements. They are reliable and cost-effective solutions.
Our primary objective is safety. Based on an already approved platform, our modifications have no impact on the integrity of the basic vehicle. We do not rely solely on artificial intelligence to operate our autonomous shuttles, we apply all the industrial standards of the automotive world.